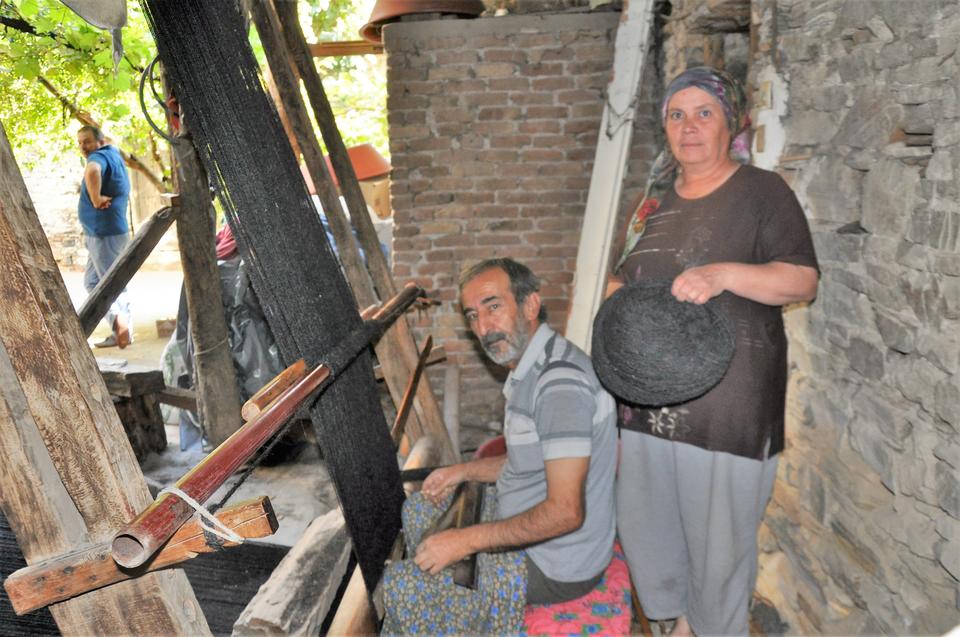 The first meeting of me with Uncle was during a search for master in order to make my black tent made. I already knew that there were three separate villages neighboring each other in the area of Bozdoğan-Aydın city which deal with goat hair weavings, but I didn't know about the details of the actual situation of the weaving activities going on there. I had heard and read many times that the villages named Olukbaşı, Kızılca and Dutağaç were the only serial black tent producers from goat hair for nearly 1000 years but had no other information about the details.
After a small research I have learned that the handmade production on these villages was nearly dead but interestingly semi-automatized industrial weaving of the black nomad tents were continued. Most of the tents woven with machine were sold to the nobility of Gulf Arabs who were making traditional encampments with their Arab horses, black tents, hunting falcons and luxurious 4X4s.
Going deep into the research I learned the black goat hair used for the production of those tents were taken from the abattoir for a very cheap price because they were obtained as detached from dead animal skins by corroding them with a mixture of chemicals containing arsenic (!).
Moreover people were mixing 30% of synthetic fiber to prevent this corroded yarn break during the machine weaving. "No way!" I said. I was very but very frustrated faced with this situation. "There should be another way to obtain a proper goat hair nomad tent".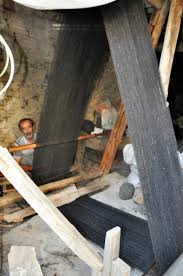 I decided to call the mayor of one of the villages in order to check if there were some other ways to have an authentic black tent woven in a handmade carpet loom by some masters. I pressed to the mobile phone numbers of the mayor of Olukbaşı village, that I took from internet, and pretended (!) to be the son of a nomad family living in the mountain in order to make him sure I am close enough to the subject and I don't want a tent made out of corroded goat hair by some arsenic containing material.
The answer I got was at the same time hopeful and upsetting. The mayor said that the very last tent maker of these three villages is his uncle, Uncle Dursun. He added, "if you want the tent being made by him, you will have difficulty to explain yourself, he is a bit uuuh…… cranky(!). He added that on the other hand he is one of the most honest people in earth. I said I will keep it in my mind.
When I first called Uncle Dursun from his mobile phone he said "close now! The cow is giving birth I cannot deal with another thing now!. For the second attempt he said "oh this is the fig harvesting time, we deal with making dried figs. Boy, call me the next week".
The third attempt was successful, he asked about the dimensions of the tent then he said, he only works with hand shorn natural goat hair and hand-weaving carpet loom and he cannot work with low quality poisonous abattoir hair because of his health, and also the quality of the end product do not make him fell honest against the customers. He said that I will wait a bit more than six months because her wife would comb and spin some 150 kg of black goat hair and he will weave them as panels of 60 cm, and then will sew them together.
When I asked him to make the tent holders from wood instead of iron he said by laughing "Oh boy, how do you know this? I didn't make them from wood for more than forty years, are you older than me?" then added, "You know, I appreciate what you are doing, you are making my ancestors and yours happy in their grave".
I was more than happy to receive such a compliment from him, the real legend, he is one of the reasons I am able to make these tours, the last of tent benders who worked 162 kg of hair with her wife in a hand weaving carpet loom to make a warm shelter for me. Uncle Dursun… long live!
P.S: For the weaving and constructing of a nomad tent please look at the trailer movie of my friend Dr. Kristina Pfeifer
http://www.blacktent.at/site-e/film_trailer.htm